Windows Server System OverviewPublished: July 9, 2003

At Microsoft, their role is to engineer out complexity and costs, and incorporate operating system innovations into a deeply-integrated infrastructure that enables information technology (IT) professionals to focus on meeting business requirements. Microsoft Windows Server System, integrated server infrastructure software, gives you the ability to develop, deploy and operate your IT infrastructure more efficiently so you can focus on your business challenges, and accelerate your delivery of new value to the business.
Operations Infrastructure
Application Infrastructure
Information Worker Infrastructure
Server Platform
Windows Server System is integrated server infrastructure software from Microsoft that is designed to support end-to-end solutions built on Windows ServerT 2003. It creates an infrastructure that is based on the Microsoft concept of integrated innovation: a whole-system design approach that helps you simplify development, deployment and management by anticipating needs and opportunities. It is intrinsically designed to work together and interact seamlessly with other data and applications across your IT environment so you can reduce the costs of ongoing operations, deliver highly reliable and secure IT infrastructure, and drive valuable new capabilities for the future growth of your business.
Windows Server System truly helps you do more with less.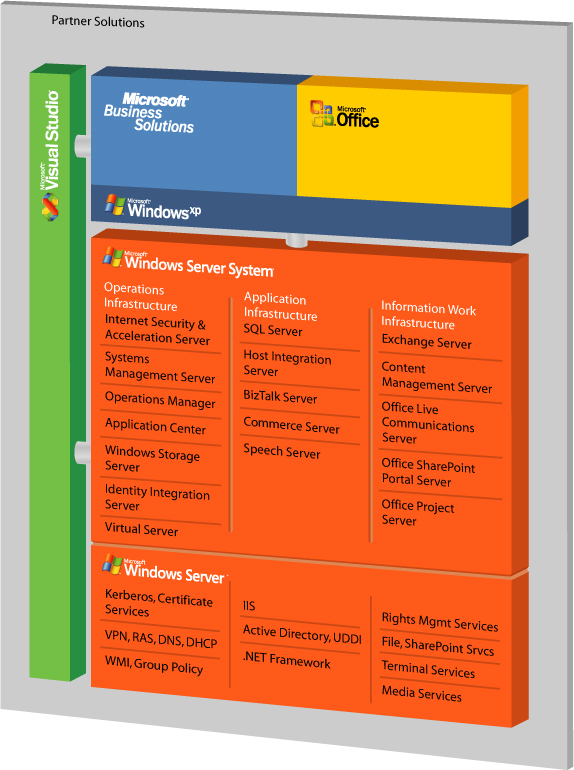 The foundation for Windows Server System is the Microsoft Windows Server(TM) 2003 operating system, which delivers the core infrastructure and common services across each of these categories. The server platform provides:
The underlying security model, directory services, and operations and management services to support the Operations Infrastructure.
The core application definition and programming model as the foundation for the Application Infrastructure.
The core data and collaboration services that support the Information Worker Infrastructure.
Through deep integration with these core platform services and a common architectural approach, Windows Server System delivers a comprehensive and interoperable infrastructure that helps reduce complexity and costs, and empowers IT professionals to simplify development, management, and operations, and deliver high-value, information-rich business applications. As a result, Windows Server System helps IT organizations increase the strategic impact of the investments they make to support the people, processes, information, and relationships that drive the business. The following figure illustrates the scope of Windows Server System.


Operations Infrastructure

Business and IT exist in a delicate balance that can just as easily foster innovation as bring it to a grinding halt. IT administrators are challenged to deliver secure and manageable solutions while at the same time minimizing downtime and costs. We understand this challenge and we've made it a core part of our mission to reduce the complexity of operational infrastructure to help simplify and lower the costs of deployment, management, security, and operations. These changes mean more resources for reinvestment in your business.

At its foundation, the Windows Server 2003 server platform is designed to deliver simplicity, automation, and flexibility in the data center and across the IT environment. By focusing on server consolidation, increased server utilization, and the automation of core management tasks, the new Windows Server 2003 platform is proven to increase IT efficiency by as much as 30 percent. And by delivering major advancements to simplify management, small businesses with limited IT resources as well as enterprise customers with complex operational needs can take advantage of these efficiencies.

The Windows Server System security and management servers build on the Windows Server 2003 server platform to deliver an integrated Operations Infrastructure that promotes operational efficiencies through simplified deployment, management, and security, as well as reduced IT infrastructure costs.

Products and capabilities include:

. Microsoft Internet Security and Acceleration (ISA) Server is an extensible, multilayer enterprise firewall and Web cache that helps provide secure, fast, and manageable Internet connectivity. ISA Server also provides a high-performance Web proxy and cache that improves performance and delivers cost savings by effectively managing network bandwidth.
. Microsoft Systems Management Server delivers cost-effective, scalable change and configuration management for desktops and servers based on Microsoft Windows(R) and helps administrators to distribute security updates for all Microsoft products throughout the enterprise. Built on industry-standard management protocols, Systems Management Server is compatible with complementary management tools from Microsoft and other companies.
. Microsoft Operations Manager delivers enterprise-class operations management by providing comprehensive event management, proactive monitoring and alerting, reporting, and trend analysis. It is also key to helping reduce the day-to-day support costs associated with running applications and services in a Windows-based IT environment.
. Microsoft Application Center is Microsoft's deployment and management tool for high-availability Web applications built on Microsoft Windows. Application Center makes managing groups of servers as simple as managing a single computer. Application Center empowers developers and Web site administrators to deploy applications quickly and easily while minimizing the in-depth application knowledge requirements. In turn, this reduces the complexity and cost of operating scalable, highly-available applications.

For comprehensive information on Microsoft's commitment to security, please visit the Microsoft Security & Privacy center. And for a view of the future of Windows Server System management software including the newly announced Microsoft System Center, please see our story on the Management Vision at Microsof


Application Infrastructure
In today's highly complex IT environments, no application is an island-every development project needs to consider the implications of interoperability and how to integrate the application within the existing IT environment. And so the key decision criteria for any application infrastructure discussion becomes not only about the benefits it provides-how productive the development environment is, and how much plumbing the infrastructure provides so that the developers don't need to build it themselves-but also about the long-term impact of that application infrastructure on the IT environment as a whole.

Windows Server System is focused on integration and interoperability. Consequently, Windows Server System strives to provide the highest level of dependability, performance, and productivity for application development, while also making it easier to interoperate with line-of-business applications already in place in your IT organization.

The Windows Server 2003 server platform delivers the following core elements

An integrated programming model through the .NET Framework that enables an unprecedented level of software integration using XML Web service

An integrated Web server through Internet Information Services that delivers Web security, reliability, and speed

Integrated directory services that deliver performance, scale, and flexibility.
Together, Visual Studio .NET 2003 and Windows Server 2003 provide a unified application platform with a consistent programming model that scales from device to data center. Because the development toolset and the .NET Framework are tuned specifically for the Windows Server operating system, this integrated application platform delivers the highest levels of developer productivity and operating system performance.

The Windows Server System database management and e-business servers extend this application platform to provide the integrated and interoperable Application Infrastructure for enterprise application integration, business process automation, through-the-firewall messaging, and customer and partner e-business portals.

Through common infrastructure and .NET technology, Windows Server System ensures that these capabilities work well for the line-of-business applications that exist in your IT environment today so that these applications can be extended out and connected with other internal applications, as well as with business partners, suppliers, and customers.

Products and capabilities include the following:

. SQL Server is a complete, Web-enabled database and data analysis package that opens the door to the rapid development of a new generation of enterprise-class business applications that can give your company a critical competitive advantage. Microsoft SQL Server(TM) provides core support for XML and the capability to query across the Internet and beyond the firewall.
. BizTalk Server enables you to rapidly build and deploy integrated business processes within your organization and with partners. Microsoft BizTalk(R) Server offers a set of tools and services that make building business processes and integrating applications faster. You can quickly implement secure, reliable trading partner relationships independent of operating system, programming model, or programming language.
. Commerce Server reduces the complexity and time required to deliver tailored, effective e-commerce solutions. By providing the application framework, together with sophisticated feedback mechanisms and analytical capabilities, Microsoft Commerce Server helps you to quickly develop sites that optimize the customer experience, encouraging repeat business and forging tighter partner relationships.
. Content Management Server dramatically reduces the time required to build and deploy content-driven Web sites that deliver high scalability, reliability, and performance. Microsoft Content Management Server empowers content providers to manage their own content and provides site users with a targeted and personalized experience tailored to their individual profiles and browsing devices.
. Host Integration Server extends your Windows-based applications to other systems by providing application, data, and network integration. Microsoft Host Integration Server helps you quickly adapt to new business opportunities while preserving existing infrastructure investments.
. Speech Server, the newest integrated member of Windows Server System, delivers flexible speech technologies at the lowest total cost of ownership. Windows Server System delivers the reliable and flexible Application Infrastructure that maximizes development productivity and reduces complexity and costs. As a result, you can focus on meeting your business needs.


Information Worker Infrastructure

We see a world where information workers-individuals who rely on information to do their jobs-can effortlessly and securely find, access, manage, and share information through a seamlessly integrated information infrastructure. This infrastructure needs to connect people, information, and processes to optimize business value through communications and collaboration.

Windows Server System delivers an integrated and interoperable infrastructure designed to maximize the productivity of information workers. With a focus on integration through common architecture, the Information Worker Infrastructure delivered in Windows Server System helps unlock previously isolated information, increase the speed and effectiveness of collaboration, and empower information workers to make more informed decisions quickly.

Windows Server 2003 server platform delivers the core data and collaboration services that help you deliver richer collaboration solutions more easily and help lower support overhead by letting users do more work on their own. Information worker productivity begins with data.

The integrated data services in Windows Server 2003 deliver a scalable storage architecture that protects end-user data, ensures data availability and integrity, and reduces the inadvertent loss of data while empowering users to recover their data on their own. Integrated media services deliver streaming media capabilities to support a rich experience for users while enabling IT to more easily manage network bandwidth. In addition, with the integrated team services, information workers can easily create Web sites for information sharing and document collaboration, enabling simpler and more effective team collaboration.

The Windows Server System communication and collaboration servers extend the capabilities of the Windows Server 2003 server platform for highly productive team collaboration, messaging, and real-time communications. This integrated Information Worker Infrastructure helps companies to seamlessly connect information, people, and systems to drive superior visibility and to foster better, faster decisions across the entire business.

Products and capabilities include the following:

. Microsoft Exchange Server delivers best-in-class e-mail-based collaboration services that are highly secure, thoroughly reliable, and easy to access, giving information workers better control of their business communications so that enterprises of all sizes can make decisions more efficiently and compete more effectively.
. Microsoft Office Live Communication Server 2003 is the enterprise-ready instant messaging (IM), presence awareness, and extensible real-time communication and collaboration platform that connects people, information, and business processes-enabling better decisions faster. With a familiar user experience integrated into the Microsoft Office System environment, Live Communications Server 2003 allows people to communicate without the constraints of geography, office location, or time zone.
. Microsoft Office SharePoint Portal Server is the flexible portal offering that enables information workers to quickly and easily find, share, and publish information. Together, SharePoint Portal Server and Windows SharePoint Team Services give users the ability to organize information, readily access that information, manage documents, and enable efficient collaboration, all in a familiar, browser-based and Microsoft Office-integrated environment.


Server Platform

Windows Server 2003 is the most secure and reliable server platform Microsoft has ever released. As the foundation for the Windows Server System, the server platform provides a unifying layer of common services across the IT, application, and information worker infrastructures, including the following services:

. A common application programming model
. A common directory and security model
. Common data services
. Integrated caching
. Integrated distributed transaction management
. Integrated diagnostics
. Integrated management services
. Integrated media and collaboration services

Windows Server 2003 also makes significant advances in ease of deployment and ease of use, helping to reduce complexity and therefore reduce costs across the IT environment.

The Windows Server 2003 family can meet organizational needs ranging from the small business to the data center as follows:

. Windows Server 2003, Datacenter Edition, for the highest levels of scalability and reliability
. Windows Server 2003, Enterprise Edition, for mission-critical server workloads
. Windows Server 2003, Standard Edition, for departmental and standard workloads
. Windows Server 2003, Web Edition, for Web serving and hosting
. Windows Storage Server 2003 is a dedicated file server that brings reliable, highly available, and easy-to-manage storage to companies of all sizes
. Windows Small Business Server 2003, as the first server for small businesses