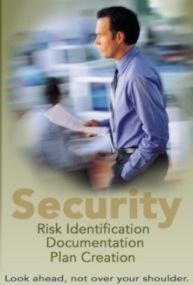 Security is probably the #1 issue of our times and effects all corporations to different degrees and in different ways.

Microsoft as made TRUSTWORTHY COMPUTING key to everything it does.

Traditionnally, information security has been characterized in terms of the "CIA triad":

Confidentiality keeping secrets secret and protecting from those not authorized to access it;

Integrity
ensuring that information isn't altered without proper authorization; and

Availability
making all systems available to users when they need them.

While this triad is useful and still applicable, it represents only one piece of the complete security model. In the wake of 9/11, many business are adopting a more synergistic approach to security, one that merges three sperate disciplines into a new security triad:
Information Security
Physical Security
Personnel Security
Security concerns are probably the most haunting and dangerous threat to all businesses, never knowing how and when something will occur, but having to protect against everything all the time.
A threat can raise it's head in an infinite number of ways and from many directions, sometimes more than one at a time.
This requires an upfront investment of funds and resources, but it must also be backed by continuous funding for regular, ongoing maintenance and even performing controlled attacks to test security in place, not just technologically, but using social tests also.
To define the right amount of security required and the amount of funds and resources to apply to protect one's firm requires an indepth analysis and risk assessment of several areas of the business for data, systems and social.
While this is a key, possibly even major investment, a problem firms encounter in putting the funding and resources towards security is that there is no ROI(return on investment). THe only result seen at the end of the tunnel over time, is that if successfully done, the organization will never have been hit and downtime will never have occured due to security issues and last but no least to legal issues will have been encountered due to the release of confidential corporate data or the privacy issues of losing client data to the public domain.